Design | Engineering | Equipment Manufacturing API Licenses & Certifications – 6A, 16A, 20E, ASME, CRN & ISO
Elastomer Manufacturing | Global Repair & Remanufacturing(API 16AR) | Global Distribution
Integrated standpipe manifold is installed downstream of the mud pumps with the purpose of diverting the flow of drilling fluids toward the drill line or drill string. An adjustable choke can be installed to bleed pressure off the drillpipe, to reduce shock when breaking circulation in wells where loss of circulation is a problem, and to bleed off pressure between BOPs during stripping operations. Pressure ratings up to 7,500 psi are available.
Integrated Stand Pipe Manifolds are manufactured in our API Certified Plant. The Integrated Stand Pipe Manifolds consists of valves, pressure gauges, line pipes and chokes when requested.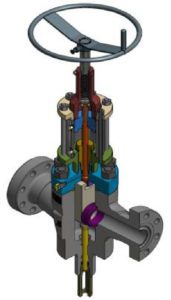 The success of our manifold system is Integrated's DrillFLO  PR2 andPSL3G Tested "Bi-directional" GateValve. DrillFLO™s  Single SeatDesign high-quality valve.